Michael Grimm – President

Michael earned a bachelor's degree in Chemistry and a Master's degree in education from Allegheny College in Pennsylvania. His love of gardening, plants, trees and physical work led him into the landscape and tree care industry. Starting in 1978, Michael went into business for himself. Over the years he has grown from a one man operation to a full service company employing 50 people making up a team of landscapers, designers, arborists and plant health experts. His hands-on way of doing business has kept employees and customers returning year after year and many have been with him for 20 years and more! Despite the increase in size, Michael continues to provide personalized service to his customers.
Some of Michael Grimm's Team
Fred Cross-Landscape Manager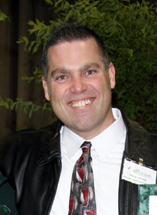 Fred moved to Central New York after majoring in business administration at SUNY Cortland. While attending college, Fred was being scouted by the Cincinnati Reds and installing landscapes (pursuing two passions in his life). He also met his wife and had three children. While settling down in Central New York, Fred put more time and effort into following his landscape dream and started taking additional classes in landscape design and horticulture. Fred has now been the head of the landscape department for Michael Grimm Services for more than 20 years.
 Dan Deyle – Tree Care Manager
Dan Deyle majored in Arborculture at Paul Smith's College of the Adirondacks, graduating with an A.A.S. in Arborculture in 1993. Dan started to learn the business from the bottom up, working for Monroe Tree Service until 1997. Dan hired on with Michael Grimm Services as a climber/foreman in the spring of 1997. Dan became an ISA Certified Arborist in 2000, and a Certified Nursery and Landscape Professional in 2004. In 2005, Dan took over the management of the Tree Department, where both customer service and customer satisfaction are his main goals. He enjoys spending time outdoors hunting and fishing with his wife and dogs.
Ron Rogers-Property Maintenance/Sales

Ron is a self proclaimed "Jack of all trades." Ron holds a Bachelor's in Resource Management from SUNY-ESF, is an ISA Certified Arborist, Certified Nursery and Landscape Professional and Certified Pesticide Applicator. He joined the Michael Grimm Services team in 1999 and has dabbled in several areas of the company. Ron enjoys snowmobiling and spending time with his wife and son.
Eric Vierow-Designer/Sales

Eric has been with Michael Grimm since 1999 where he started as a landscaper. He quickly moved to Landscape Foreman and then Design/Sales in part due to his unmatched work ethic, reliability, and rapport with employees and homeowners. Eric is a Certified Nursery and Landscape Professional (CNLP) as well as certified with the Interlocking Concrete Pavers Institute (ICPI) and National Concrete Masonry Association (NCMA). Eric has a particular affinity for working with natural stone and has created some of our company's most amazing stone features and benches.
Laura Stegeman-Designer/Sales

Laura comes to us from the west, growing up in Arizona and attending Colorado State University receiving a Bachelor's in Horticulture. Laura worked for several years in the nursery/greenhouse industry before coming to Grimm's in 2010 to work on the gardening crew. She is a Certified Nursery and Landscape Professional (CNLP) as well as certified with the National Concrete and Masonry Association (NCMA).